Home of the beauty queens and the tagged Pearl of the Orient Seas, Philippines consistently hones their innate beauties to outshine other candidates in the international spotlight, which is exactly why even in the smallest organization and division in the Philippines, beauty pageants hold a great importance during celebrations like fiestas.
Find out the four major beauty pageant organizations in the Philippines, if you aspire to make it big, and go for the national crown or the international title.
1. Binibining Pilipinas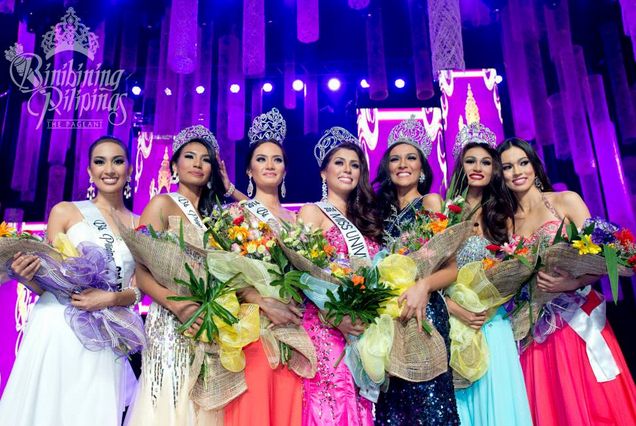 Binibining Pilipinas is a franchise of Miss Universe organization that crowns five women to represent Philippines in international beauty competitions. The ultimate winner will be crowned as Miss Universe Philippines while the other four will be named Binibining Pilipinas International,  Binibining Pilipinas Tourism, Binibining Pilipinas Intercontinental, and Binibining Pilipinas Supranational.
Led by Stella Marquez-Araneta, a former beauty queen herself who became Miss Colombia in 1959 and Miss International in 1960, Binibining Pilipinas started in 1964 and became a project of BPCI or Binibining Pilipinas Charities Inc., a non-profit organization involved in humanitarian programs for the benefit of the orphans and less fortunate Filipino people.
In the history of Binibining Pilipinas, only two Filipinos ultimately won the international crown of Miss Universe competition, Gloria Maria Aspillera-Diaz in 1969 and Maria Margarita Roxas Moran in 1973.
In the Miss International category, four Filipinas won the crown: Aurora McKenney Pijuan in 1970, Melanie Marquez in 1979, Precious Lara Quigaman in 2005, and Bea Rose Santiago in 2013.
Binibining Pilipinas Tourism who represented and won in the international spotlight for Miss Tourism Queen International was Justine Vinluan Gabionza in 2006. Justine, however, won her title through Miss Philippines Earth who sent delegates for the said pageant from 2004 to 2009. In 2011, Binibining Pilipinas reestablished the title.
Miss Supranational, which started in 2009, was won once by Mutya Johanna Fontiveros Datul in 2013.
2. Miss Philippines Earth
 Miss Philippines Earth is the search for the most beautiful and environment-friendly woman in the Philippines. Winners will promote environmental activities and deal with issues concerning the environment, and they fundamentally become the spokesperson of Miss Earth Foundation and United Nations Environment Programme.
Winner will be named as Miss Philippines Earth while the runners up will be called Miss Philippines Air, Miss Philippines Water, Miss Philippines Fire, and Miss Philippines Eco-Tourism.
Miss Philippines Earth was formally launched in 2001, in coordination with DENR, MMDA, and UNEP, by Carousel Productions. This competition is also open to all Filipino women with foreign descents who are living outside the country. It was known to be the most broadly participated pageant in the country as it reaches out to different provinces, cities, municipalities in the Philippines and even to Filipinos abroad.
Notable winners in the international level are Karla Paula Henry, who was crowned Miss Earth 2008 and Miss Photogenic, and Jamie del Rosario Herrell who was Miss Earth 2014 and also bagged the Darling of the Press Award. Both international winners are from Cebu City, Philippines.
3. Miss World Philippines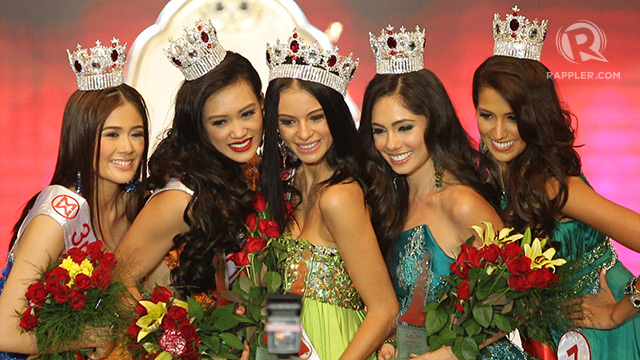 Miss World Philippines is the country's franchise for Miss World International competition and follows the theme "Beauty in Giving." The organization aims to raise funds to help the poor Filipinos and to provide vaccines and medicines for the sick.
Miss World Philippines was under Mutya ng Pilipinas organization from 1977to 1991. In 1992, the franchise was awarded to Binibining Pilipinas organization until 2010. In 2011, it went to Cory Quirino of CQ Global Quest Inc., and it was named Miss World Philippines.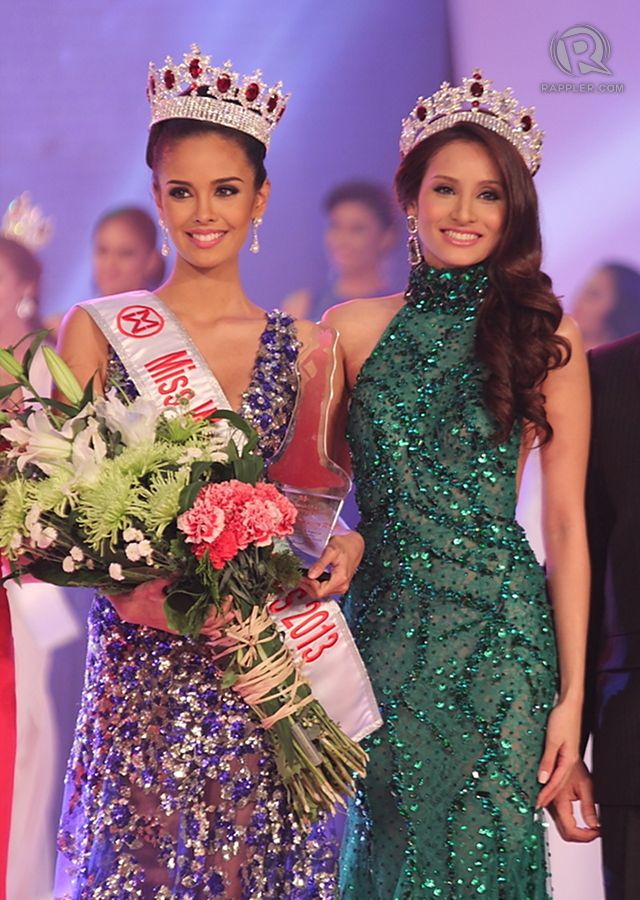 Since 2011, the Miss World International has been won only once by a Filipina, and that was Megan Lynne Talde Young in 2013.
4. Mutya ng Pilipinas
Mutya ng Pilipinas is another major beauty pageant organization in the Philippines that is currently responsible in sending delegates for Miss Asia Pacific International, Top Model of the World, Miss Tourism International, and Miss Tourism Planet.
Mutya ng Pilipins is run by Mutya ng Pilipinas Inc., headed by franchise holder and president Jacqueline Tan. The theme of the pageant is about beauty tourism, and it is highly involved in promoting the country's natural beauty.
In the history of Mutya ng Pilipinas, it has successfully sent four delegates in the international contest for Miss Asia Pacific who brought home the crown. They are Maria del Carmen Ines Zaraoza, Miss Asia Pacific 1982, Gloral Dimayacyac, Miss Asia Pacific 1983, Loran Legaspi, Miss Asia Pacific 1989, and Michelle Aldana, Miss Asia Pacific 1993.
Under Miss Tourism international competition, three Filipinos ultimately brought home the crown. Maria Esperanza Corazon Manzano became the first Filipina to win this title in 2000, followed by Rizzini Alexis Gomez in 2012, and Angeli Dione Gomez in 2013.
Aside from these four major beauty pageants in the Philippines, there are also a few local competitions that made it to the international tournament of beauty and fashion, while there are other national beauties from these competitions who also made it in other pageants abroad (which was not franchised in the Philippines like Binibining Pilipinas). Carlene Aguilar, for instance, was Miss Internet WWW 2006, and April Love Antolo Jordan won the Beauty of the World title in 2009.
While most Filipinos excel in their field of craftsmanship and artistry, some Filipinos transcend in beauty and fashion industry because of their distinct nature and winning attitude. If you think you have the face and the body of a true Filipina, these pageants will surely open the doors for you toward achieving your dream as a beauty queen.
Top 4 Most Prestigious Beauty Pageants in the Philippines
by
Holly Bissonnette