If you think you could not get away with stretch marks and could not get back to shape after giving birth, these local celebrities will prove you wrong.
Check out the ten hottest celebrity moms in the country who are set to redefine sexiness as they flaunt their almost-perfect bodies even after giving birth.
1. Jennylyn Mercado
Starstruck winner Jennylyn Mercado is one celebrity mom when she landed as the fourth sexiest woman in the Philippines according to FHM. On top of that, she was also named as the best actress during the 2014 Metro Manila Film Festival.
At the age of twenty, she gave birth to a baby boy named Jazz.
2. Cristine Reyes
New mom and another Starstruck alumna who is now a talent of ABS-CBN TV network, Cristine Reyes just gave birth to a healthy baby girl February this year.
Mother of three-month-old Amarah, Cristine was the fifth sexiest celebrity mom in 2014 according to FHM, ranking next to Jennylyn Mercado, and she was also one of the two box-office queens in 2012 for her movie No Other Woman.
3. Katrina Halili
Another Starstruck contestant Katrina Halili is one of the longest mainstays in FHM's the sexiest list as one of the top ten sexiest Filipino women for seven years from 2004 to 2011. In fact, she was voted as the sexiest woman for two consecutive years, in 2006 and 2007.
Her career went to a temporary halt after she gave birth to her daughter in September 2008. Halili went back immediately the year after and starred in a few drama series. She will star in GMA Network's upcoming drama series The Rich Man's Daughter.
4. Andi Eigenmann
Coming from the family of actors, Andi Eigenmann is an celebrity moms and model whose pregnancy stirred many controversy on 2011. Now a mother of Adrianna Gabrielle, Andi continued her acting career and was crowned the most beautiful by Mega magazine in 2014.
She was also one of the top fifty sexiest women in 2013 by FHM Philippines.
5. LJ Reyes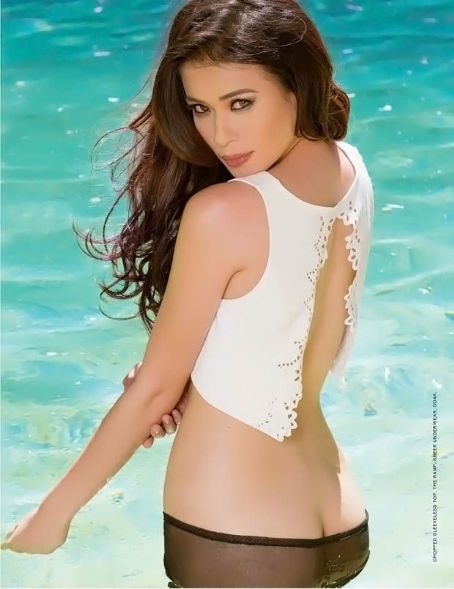 Last year's 21st sexiest celebrity mom in the Philippines, Starstruck contestant LJ Reyes is a mother of Ethan Akio Reyes whose father is also a product of the same talent reality show.
After giving birth to her son on July 2010, LJ went back to acting. She had starred in GMA Network's Yagit and Prinsesa ng Buhay Ko.
6. Melissa Ricks
Filipino-American actress Melissa Ricks is a runner-up in Star Circle Quest, another local reality talent search aired in ABS-CBN. She was named one of the top 20 sexiest women in the Philippines last year, and she also graced in HK FHM cover few years ago.
Melissa gave birth to a baby girl January this year and named her Kiera Kelly.
7. Aubrey Miles
Ranking 39th last year in FHM's list of sexiest women in the Philippines, Aubrey Miles is a proud mom of two boys, Maurie and Hunter.
8. Valerie Concepcion
Actress and host Valerie Concepcion became the celebrity mom of Heather Fiona when she was still sixteen years old.
Valerie became the best female variety show host in 2008 and 2009. Last year, she also placed as one of the top 100 sexiest women in the Philippines by FHM.
9. Sarah Lahbati
Swiss-Filipino actress Sarah Lahbati who received the German Moreno Youth Achievement award in 2011 is in a loving relationship with actor Richard Gutierrez. They have a son named Zion who has been kept away from the public eye for months.
10. Cheska Garcia-Kramer
Cheska Garcia is a full-time mom to Clair Kendra, Scarlett Louvelle, and Gavin Phoenix and a wife to basketball player Doug Kramer.
One of the faces of POND'S, Cheska is currently doing local campaigns along with her family. She also earned a lot of compliment for maintaining a healthy lifestyle and a fit body despite being a mother of three.
These celebrities not only proved that being a mother is not a hindrance from achieving a healthy and fit body, they taught every Filipino woman to get back to their feet and rise above their struggles.
10 Celebrity Moms Who Flaunt Sexy Bodies Even After Giving Birth
by
Holly Bissonnette