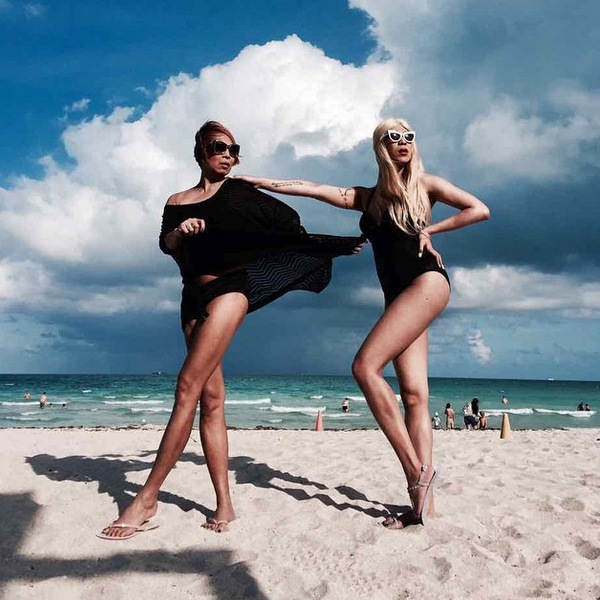 Vice Ganda conquered Miami, where he and his swimsuit photos which he posted online, became viral in a matter of days. His photos showing off his flawless long legs together with his brother Emma Vice spread like wild fire on Twitter and the hastag #viceinmiami became one of the top trends in social media.
Vice Ganda, a supermodel turned actress turned horse according to his Twitter page, posted his photos while on vacation in the U.S. during the Holy Week wearing a black swimsuit and a long blonde wig. His "Little Ponies", as what his fans call themselves, described his images as inspired by Paris Hilton. The next day, he also posted a photo of him wearing a striped swimsuit along with her blonde hair while standing on the edge of a boat.
Vice Ganda or Jose Marie Borja Viceral in real life, is a renowned TV host, endorser, actor, and recording artist who started as a stand-up comedian in comedy bars where he earned his stage name, Vice Ganda. He appeared in several TV shows and series before he became one of the hosts of Showtime, a local talent search program where he eventually rose to fame. Three of his movies also became the highest grossing film in the Philippine cinema.
As a trendsetter, comedian and actor, Vice Ganda ranks second among the country's most followed personalities and celebrities on social media next with with almost two million followers on Instagram and more than five million on Twitter. The top spot belongs to fellow Showtime host, actress, and model Anne Curtis Smith, who has 2.9 million followers on Instagram and 8 million on Twitter.
Aside from being a natural comedian, Vice Ganda is also known for his weird fashion choices and his unparalleled creativity as manifested in his shows. The former political science student, who once dreamed of becoming the first openly gay lawyer, is now given the title of "Phenomenal Star", whose sense of style is edgy and unpredictable, just like his swimsuit photos that he has spread all over the Internet.
Vice Ganda turns a simple black swimsuit photo into a viral sensation and it's not just because he has a solid fan base. It is also because he looked phenomenal in the one piece suit that complements his long legs and his long blonde hair. He has proven once again that someone like him can live a girl's life, even if he was born a man.
Vice Ganda's Swimsuit Photos in Miami Go Viral
by
Holly Bissonnette